PumpAlarm.com Frequently Asked Questions
PumpAlarm.com Frequently Asked Questions
---
​​I lost my user guide, how can I get another one?
Download our PumpAlarm Quick Start Installation Guide here:
---
How do I delete a phone number from receiving text alerts?
If you would like to remove/clear one of the phone numbers that is currently receiving text alerts from your PumpAlarm, you may use the following commands to text to your PumpAlarm device:

Text Phone1 none

to clear the phone number from Phone 1 position.

Text Phone2 none

to clear the phone number from Phone 2 position.

Text Phone3 none

to clear the phone number from Phone 3 position.
---
How much is the text messaging subscription service per year?
​Our PumpAlarm service is $49.99 per year.
Our TextLight service is $149.99 per year.
---
How do I cancel my service?
To cancel your service please call our technical support department at 888-454-5051 or email us a cancellation request to support@pumpalarm.com.
---
How do I renew my subscription service each year?
Your service will auto-renew each year for your PumpAlarm and/or TextLight unit. This means your card will be automatically charged on your activation date each year.
---
How quickly will I be notified if the PumpAlarm detects water?
As long as your device has a sensor installed to detect water, your PumpAlarm will notify you instantly.
---
Why didn't I receive a notification when my sump pump turned on?
Your PumpAlarm does not monitor the operation of your sump pump, so it will not send a notification when your sump pump motor turns on or off.
---
Will I receive a notification from my PumpAlarm when everything returns back to normal?
Yes, you will receive a text message as soon as the water levels return to normal or when AC power is restored to your unit.
---
How deep should I hang the float switch for the PumpAlarm in my sump pit?
The float switch should hang a few inches above the top of your sump pump motor. The exact height will vary depending on the size of your sump pit and the power of your sump pump motor. The generalization is that you should hang the sensors at a height that allows for ample time to receive a notification and do something about the problem before a flood occurs.
Note: Be sure to only use the float in your sump pit as the water detector is very sensitive and can trigger false alarms due to splashing in your pit. Use the water detector next to floor drains and under appliances where it is normally dry.
---
Does activation start the annual subscription for text notifications?
You will be automatically billed annually on your activation date.
---
Why does my unit require activation?
Similar to a cell phone, the PumpAlarm and TextLight both communicate through the Verizon cellular network and the activation of the unit allows it to communicate alarms.
---
Where do I go to activate my unit? What information will I need to provide?
You will need to visit www.pumpalarm.com/activate where you'll enter your unit ID, found on the label at the top of your unit's enclosure. After entering this number, you'll need to provide billing information, a valid credit card number, an email address, and a phone number. Once you agree to the terms of use and confirm your information, your unit phone number will be displayed on the screen. This number along with a receipt will also be emailed to the email address you provided. Please keep this for your records.
---
Can I return my unit for a refund?
We accept returns for exchange or refund 30 calendar days after delivery of the product. After 30 calendar days, returns are accepted at our sole discretion and may include at 15% restocking fee. Items must be in new, unaltered, and unused condition.
---
Is the PumpaAlarm water-resistant?
While the water sensors are completely waterproof, the main unit IS NOT. Do not get your unit wet or submerge in water.

The unit is not built to withstand outdoor weather conditions. This should not be a concern if the unit hangs high above your basement or crawl space floor, significantly lowering the risk of contact with water. Our standard warranty does not cover water damage of any sort, so be sure to keep your unit dry at all times.

If you are looking for a product to withstand outdoor weather conditions, the TextLight is made for indoor and outdoor use.
---
How do I add a phone number to my PumpAlarm?
The unit can store up to three phone numbers - phone1, phone2, and phone3. Programming the numbers is simple, you'll just send a text message to the number given during activation (once you save it to your contacts for future use). For example, if you wanted to program 555-555-5555 as your first number, you would send a message exactly as it appears below:
​ ​phone1 5555555555
Note: To program a phone number into the unit's phone1 slot, you must start the message with the word phone1. To program the second and third numbers you will simply use the words phone2 or phone3, respectively, in place of phone1.

When the unit receives the message, it will chirp twice and then it will respond with a text message that contains the current settings. You should wait for the text message response on your phone before proceeding. If an error occurred while processing your text message, the alarm will beep 3 times.
---
Can I add a custom name to my PumpAlarm?
Yes! You will need to send a text message to your unit using the following method. For example, if you wanted to name your unit "Jones Home", simply text your unit using the phone number you saved earlier with the following message exactly as it appears below:
​ ​name Jones Home
Note: You can use any word or words you want in place of Jones Home, e.g. Sump Alarm, Pump Alarm, Pit Alarm, etc.
---
What commands can I send to the PumpAlarm?
The unit accepts commands sent via text message - see the below image for the full list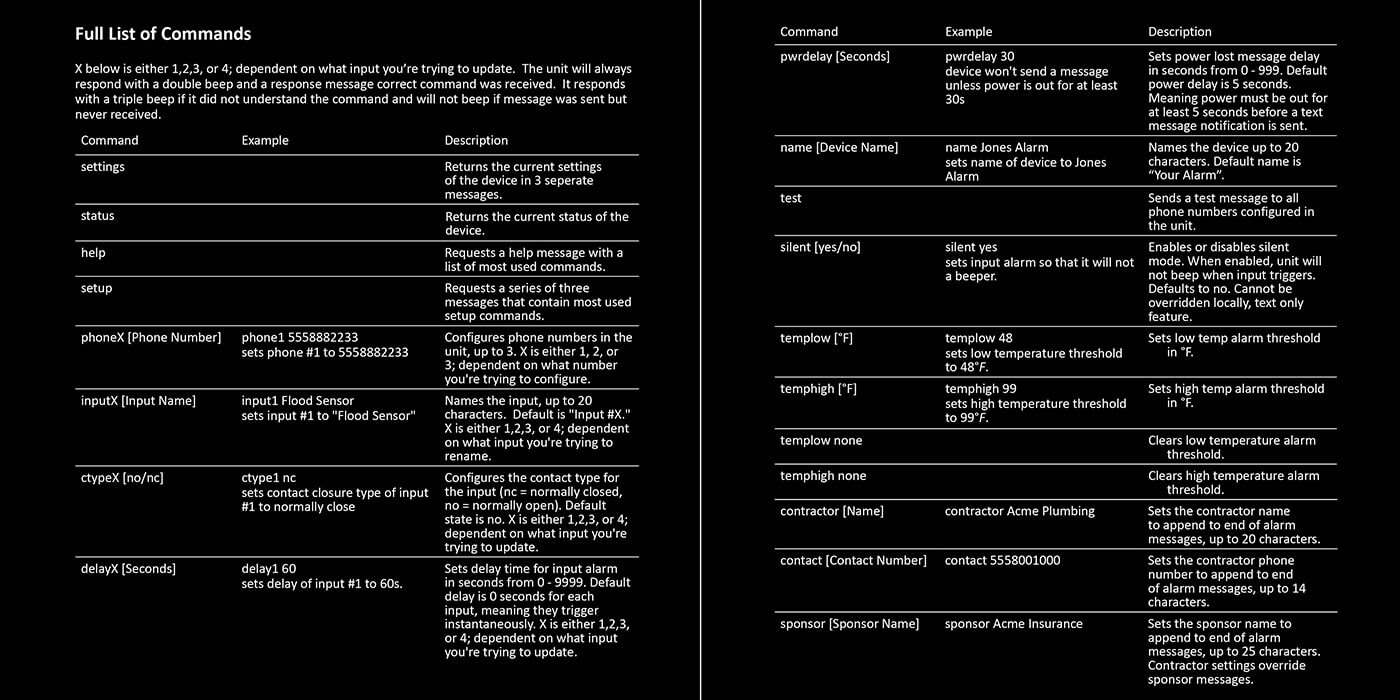 ---
Can I add my contractor's name and phone to the PumpAlarm?
Yes! Each device allows you to configure a ​contractor name with associated contact information. When this information is configured, the cellular alarm appends this contact information to the end of alarm notifications (input alarms, low battery, power loss, etc.)
For example, an input alarm will be formatted as follows:
​ ​[Unit Name] has detected a high water level for input 1 at [HH:MM AM/PM] on [MM/DD/YY]. Please contact [Contractor Name] at [Contact Info] for assistance.
| | | |
| --- | --- | --- |
| Command | Example | Description |
| contractor [name of contractor] | contractor Bob's Plumbing | Sets the name of the contractor name, up to 20 characters long |
| contact [contact info of contractor] | contact (555) 666-7777 | Sets the contact information for the contractor, up to 14 characters long |

​

Note: This is not required for configuration or alarms. You may choose not to enter this information however it might be helpful during an emergency.

---